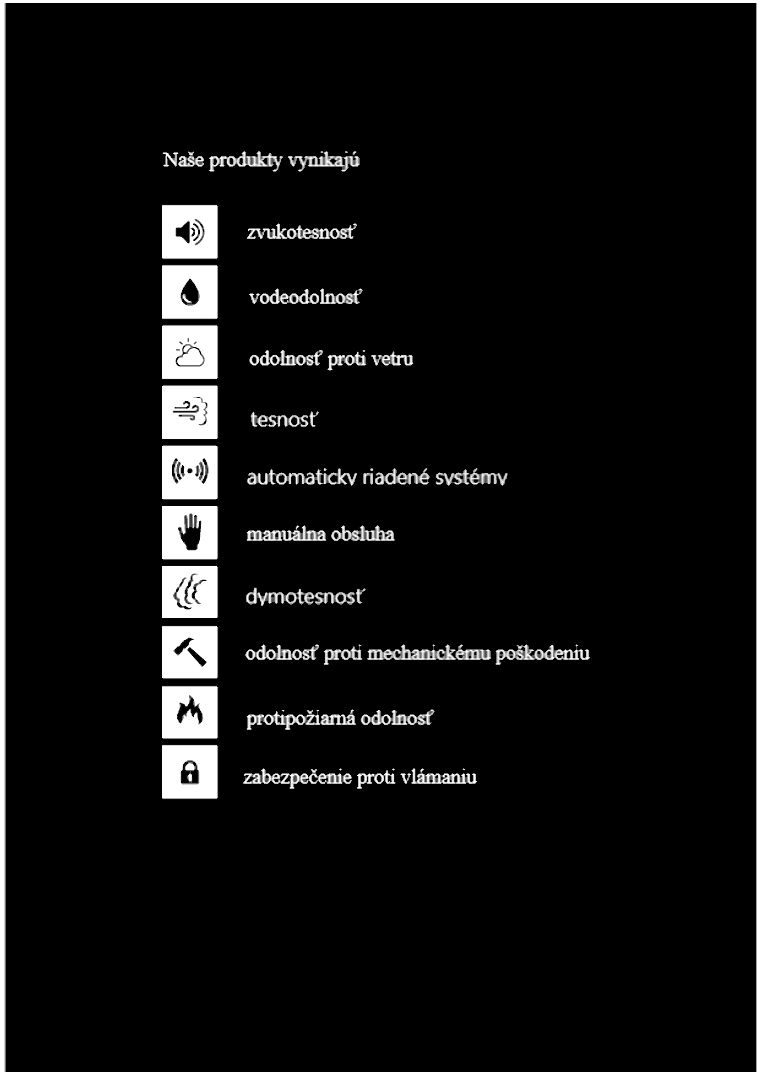 Energy efficiency and thermal insulation
The greatest risk of heat loss is posed by windows. We use a solution that guarantees maximum energy efficiency: six-chamber lead-free profiles, thermally insulating glass and high-quality seals.
Modern windows are ideal for installation in newly constructed buildings. However, they are also an excellent way to thermal upgrades existing buildings. Replacing old windows with energy-efficient ones is an economical and effective way to minimize heat loss.
The windows achieve a heat transfer coefficient ranging from UW = 1.1 to UW = 0.75 W/m2K – depending on the profiles and glazing used.
Noise protection
Negative impact Noise at Health Human is undeniable. At main Communications on the go and in centres large cities, reaches level Noise sometimes Also 90 dB, while standard is 60dB, no nOur Hearing Aid Harmful level 45 dB.
Plastic windows effectively protect against noise and, in combination with suitable glazing, can be classified as Class 5 acoustic protection. The sensation of noise in a room is subject to the following rule: if the noise level in the room is reduced by 10dB, compared to the outside noise, the impression is that the noise level is half as loud.
Windows achieve the highest acoustic insulation class Rw = 44dB. Depending on the type of system and glazing used.
Windows in the Home standard work best in this respect – thanks to the installation of an additional central seal. The windows guarantee a long-term tightness between the sash and the frame, between the glass and the sash. All these solutions ensure an optimal level of noise reduction interior.
Security
We offer technical solutions Increasing level protection from burglary. Relevant Class security windows is adapted from by individual to the requirements of customer.
Company produced by windows, doors a sliding doors So elevated resilience vs. burglary By standards PN-EN 1627. Resistance vs. burglary with here understands Property, Rest v resisting By attempting o Enter to protected rooms, s using physical forces abecause tools.
Windows, doors a sliding doors with are manufactured v classes RC1 and RC2
RC1 – Window and door products manufactured in class RC1, protect against burglary using physical force, e.g. lifting, prying. Products belonging to this class must have at least 4 "safety points", i.e. j. locking pins with stable rotating grooves (one in each corner of the window)
RC2 – Such windows, doors and sliding patio doors shall protect against burglary using simple tools such as a pin or wedge; windows in this class shall have at least 7 "security points".
Security windows / Sliding doors
The following solutions determine Security your sliding windows a doors:
1. Winkhaus activPilot fitting system locking our windows is based at Special to profiled pivots v shaped Eight-sided locking "mushrooms", which collaborate s Steel latches v frame windows. Whereby Read more locks a Steel latches, by Higher is level protection vs. burglary.
2. Certified handle with key
3. Safety glass, also P4 – in case windows RC1 is this glued glass a at RC2, it is glass Classes P4, i.e. produced z two Glass boards a four layers PVB foils. Such glazing not only Protect from burglary, but ensures Also maximum Security Usage – v in the case of breaking glass with fragments don't splashbut they stick with at foil.
4. Blocking the crank rotation by lifting the wing.
5. Lever with button – for double leaf patio doors s "movable post"
6-7 chamber profiles, width 82-88 mm – In addition to In addition Company working at Environmental Window profiles, produced by unique Unleaded Technologies – s calcium-zinc stabilizer without use Lead Stabilizers.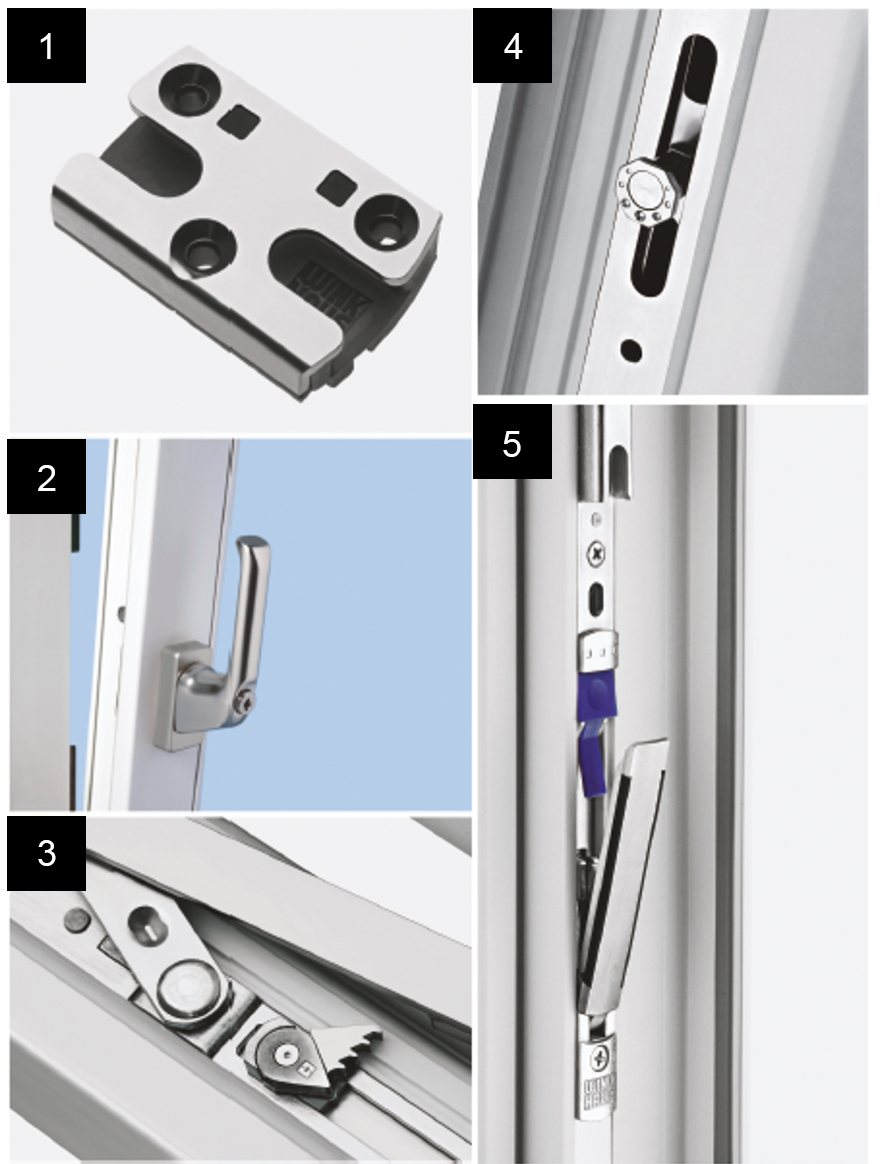 KOMMERLING
70

– is a modern window system with
the most optimal
mounting depth 70 mm. It is characterised by high acoustic and thermal insulation and optimal protection against burglary.
This system has large chambers, allowing the selection of reinforcement according to the static requirements. Its great advantage is the increased stiffness of the window and lower probability of profile deformation.
System
Kommerling
70 is characterized by better
weldability
profiles and stronger corner joints. Glass containers with a thickness of 4 to 40 mm can be used. The wide range of profile colours gives many options to match the character and style of the building.
Heat transfer coefficient
U_f
1.3W / (m2K) guarantees good thermal insulation and savings in heating costs during the heating season.
KOMMERLING 76 MD
– is a modern and best-in-class PVC window and door system with a central seal. Top quality, measurable energy cost savings, optimum noise protection and reliable burglary protection.
The Triplets
KOMMERLING 76 MD windows are the choice without compromise. The innovative structure of the system allows you to install modern
triple glazing
with a thickness of up to 48 mm and various functional glasses. PVC window and door system with 76 mm depth.
High energy cost savings – new 76mm system with highest thermal insulation parameters – value
U_w
for the reference window up to 0.76W/(m2K) improving quality of life thanks to perfect acoustic insulation up to 48dB.
Greater security – possibility of using integrated anti-theft systems (shading systems); burglary protection class RC2.
KOMMERLING 88
– will appeal especially to people who do not compromise. Innovative in the field of thermal insulation, but also in line with design trends, the KBE 88 profile system also leads the way in terms of quality, comfort and safety. It provides high energy efficiency, acoustic protection and also effectively protects against burglary.
Window construction
Kommerling
88 is based on a 7-chamber profile. The intelligent arrangement of the chambers and the use of three gaskets make it possible to obtain high thermal insulation parameters at the level of
U_w
= 0.90 W/m2K already in the standard configuration with steel reinforcement. Thermal insulation is even better thanks to the thermal frame and 3-speed glazing with coefficient
U_g
"Enter the equation."
= 0.5 W/m2K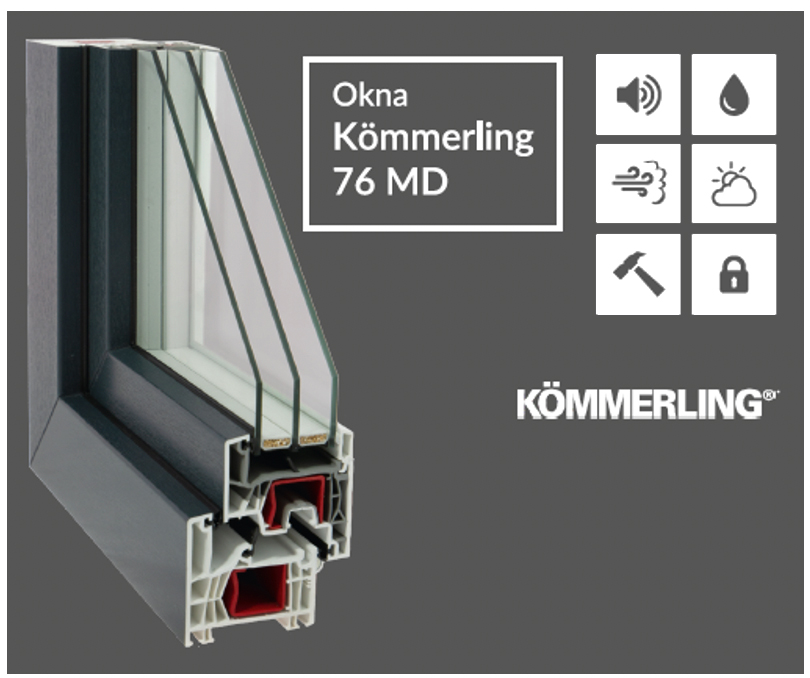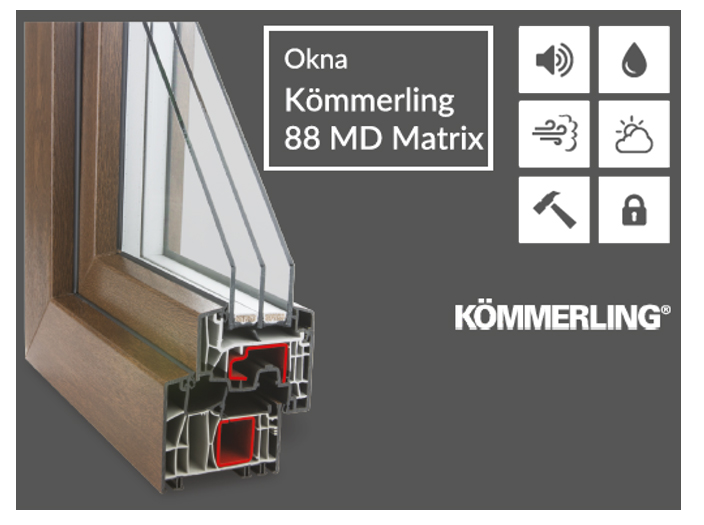 GEALAN S9000
– p
The sophisticated structure of the S 9000 system enables the creation of elegant and modern windows. What is particularly remarkable, however, is the exceptional energy efficiency. In the case of S 9000 windows, the factor
U_w
which informs us about how much heat escapes through the windows, at 0.89 W/m2K. This means that by choosing the S 9000 we can make a real difference to your heating bills.
This satisfactory thermal insulation factor has been achieved thanks to carefully designed construction details. The 83 mm deep sashes and the six-chamber frame construction guarantee high thermal and acoustic insulation. An effective barrier for
Streaming
cold air from outside and reinforced acoustic insulation.
The steel gives the windows the necessary stability and the intelligent 3-plane sealing system and standard
triple glazing
with a coefficient of
U_g
= 0.5W/m2K increase the thermal insulation properties.
GEALAN S9000 ALUCLIP
– is a six-chamber profile system with an optimum construction width of 83 mm.
The GEALAN S 9000 profiles in the ALUCLIP version have the same advantages as the S 9000, but feature external aluminium covers that make the colour options almost unlimited. From the outside, ALUCLIP windows retain the elegance of aluminium windows, but are comparable to PVC windows in terms of thermal and acoustic insulation.
The excellent parameters of the windows are due, among other things, to the six-chamber structure of the frame, deeper glazing, sashes with a depth of 83 mm, the use of a third wedge and
triple glazing
U_g
= 0.5 W/m2K package, which allows to obtain the heat transfer coefficient for the whole window at the level of
U_w
= 0,96W/m2K. Fourth seal in
glazing
falcu
also increases acoustic and thermal insulation.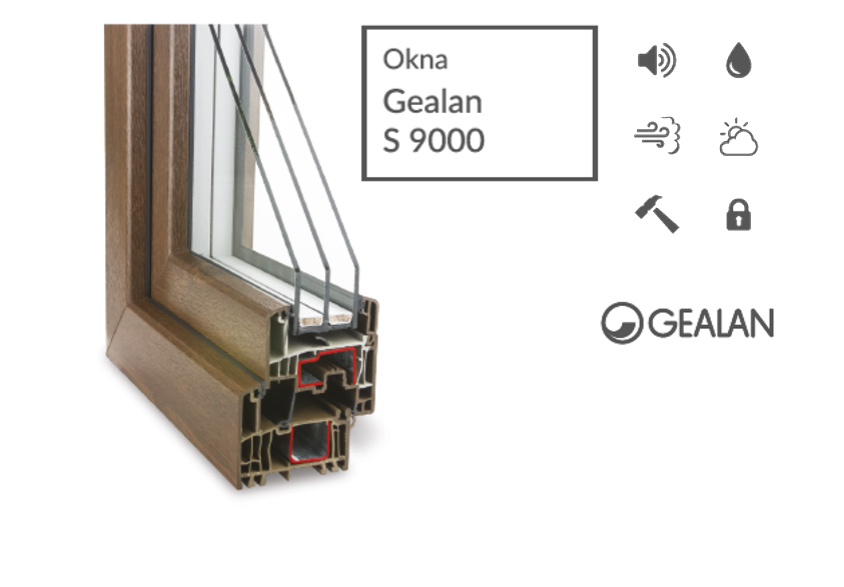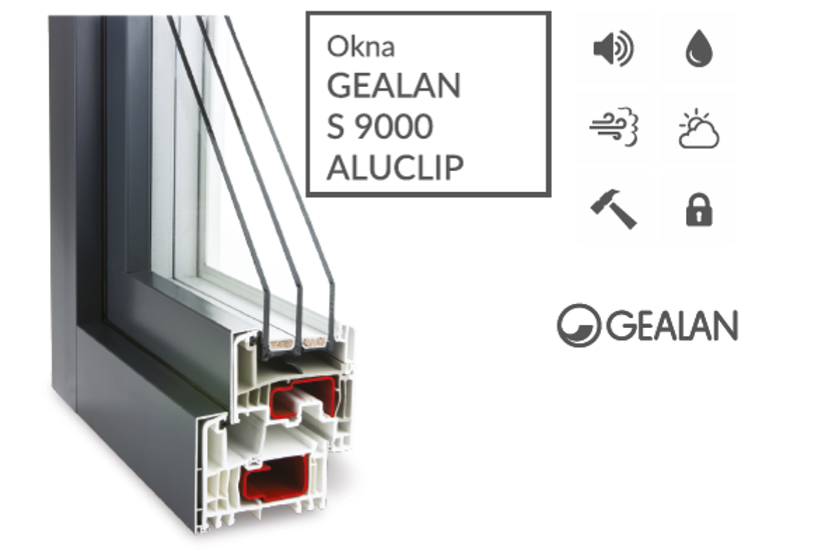 GEALAN S9000 Acryl
Do you dream of non-melting stained glass windows? The S 9000 acrylic profile system will meet your expectations. Coloured window profiles can completely change the facade of a building. Acrycolor profiles are produced in a coextrusion process involving the extrusion of several layers at once. In the case of acrycolor profiles, it is the hardening of the non-breakable bond between PVC and acrylic glass. The effect of this combination ensures not only a satisfactory aesthetic effect, but also durability. Acrylic is an incredibly durable material that retains its colour even after years of intense weathering.
Windows made of profiles coloured in the system
acrycolor
have a silky matt, smooth and non-porous surface and are highly resistant to scratches, dust and dirt.
Acrylic
S 9000 profiles are also perfectly thermally and acoustically insulating and exhibit the parameters characteristic of the basic S 9000 system.
GEALAN LUMAX

– a
25% more light in the room? This is possible with the GEALAN LUMAX profile system. In the finished windows, the combination of a traditional frame with a reduced sash gives the effect of extremely narrow window frames.
Previous designs with movable mullions often took up to 170 mm of window width. In LUMAXX, the low frame and sash combination has a height of 103 mm and is complemented by a structure that includes
monostulp
connection with a wing only 106 mm wide. This gives the effect of refinement, giving the window a slim line while ensuring comfort in use and safety. With the aesthetics-related advantages of the windows, LUMAXX allows the thermal insulation coefficient to be maintained at
Uw
= 0,89W/m2K. Very good thermal and acoustic insulation is provided by the six-chamber frame and reduced sash construction with a depth of 83 mm and
triple glazing
Ug
= 0.5 W/m2K package.
creates a single aligned surface and clear contours from the inside
falcu
emphasize a coherent, modern look from the outside. This is a proposal for fans of large glazing, based on the idea of transparent architecture, which allows a large amount of light into the rooms. The heat transfer coefficient Uf 0.88 W / (m2K) makes the windows on GEALAN-KUBUS ® profiles passive. Innovative profile design and the use of IKD® technology lead to the highest thermal insulation.
What distinguishes the GEALAN-KUBUS® system is its uniform dimension – the frame and sash combination as well as the tilt and slide system have the same width of 100 mm. As a result, windows with different functions present themselves in the same way and create a coherent, harmonious effect.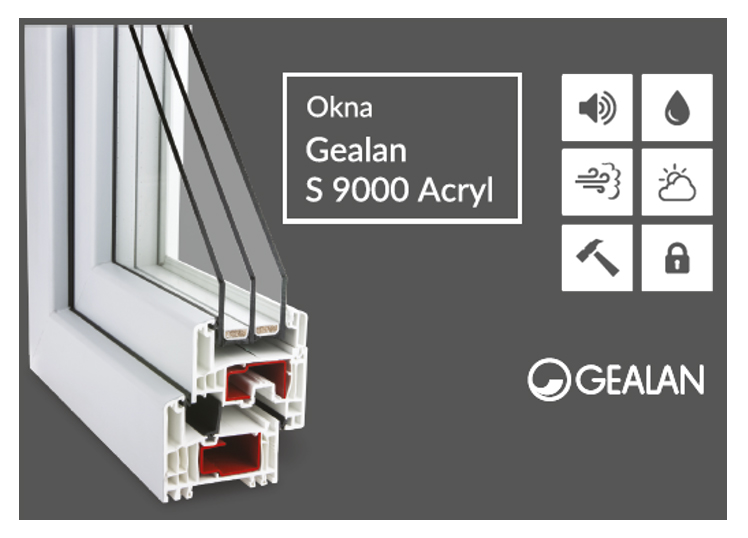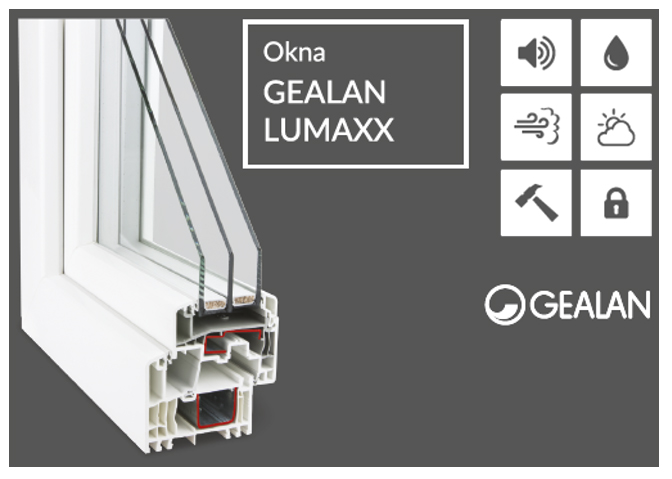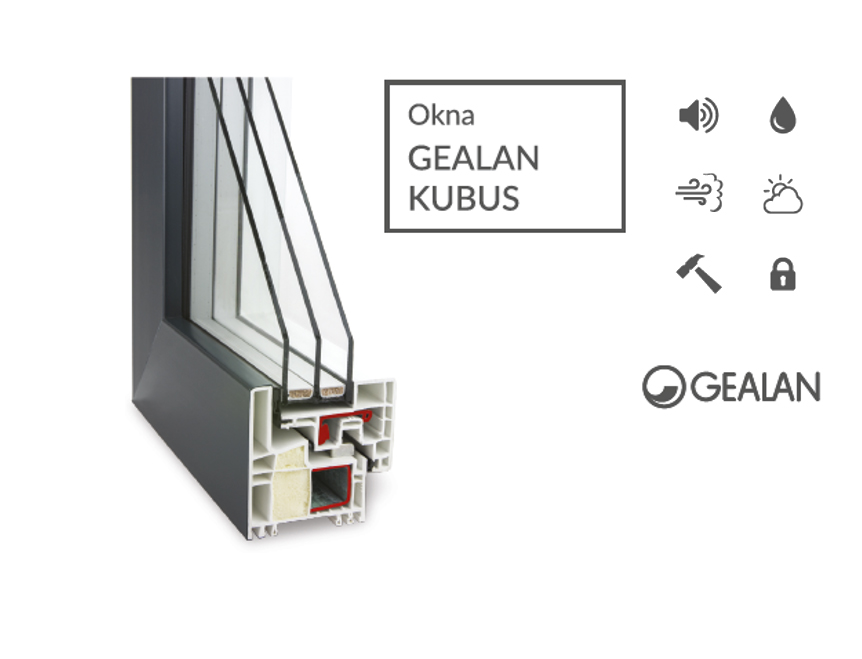 BASIC
In this standard, the windows are equipped with the latest generation of fittings activPilot from Winkhaus, crank sash lift lock, microswitch, one burglar lock in UR windows, handles and hinge caps in colours (white, brown).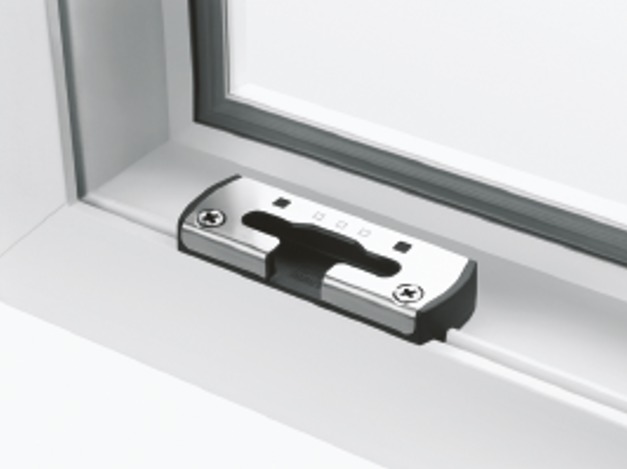 HOME
In this standard, the windows are equipped with the latest generation of fittings activPilot from Winkhaus, a handle lock with sash lift, multi-stage tilt, two anti-burglar latches, a balcony latch, handles Hoppe Secustic and hinge caps matched in veneer colours (white, bronze, silver, titanium, old gold).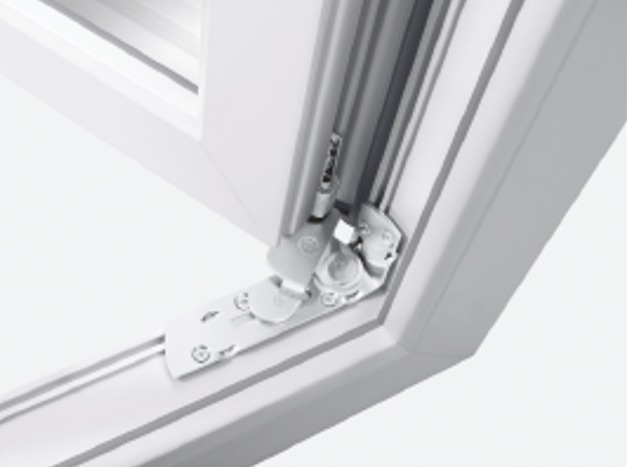 SELECT
Fittings hidden in the interior of the window Winkhaus activPilot Select, is a hinged and swivel fitting with hinges that fits fully into the space below falcom Wings. Thanks to this fitting structure, the hinges are invisible when the window is closed. In addition to aesthetic values, the window has better thermal insulation parameters. Fittings equipped with leaf lift handle lock, multi-stage swing out, two anti-theft latches, balcony latch, handles Hoppe Secustic and covers matched to the colour of the handle.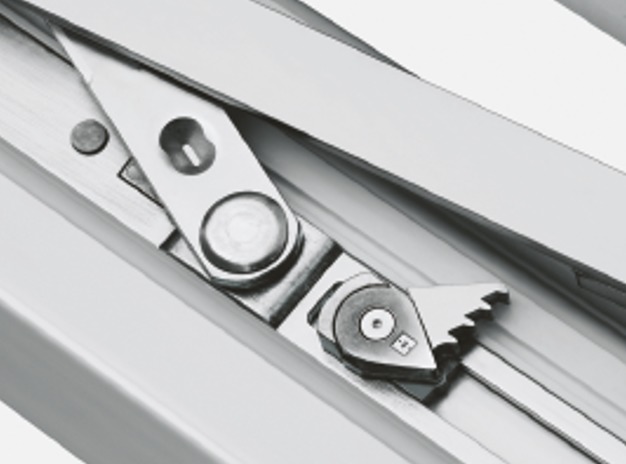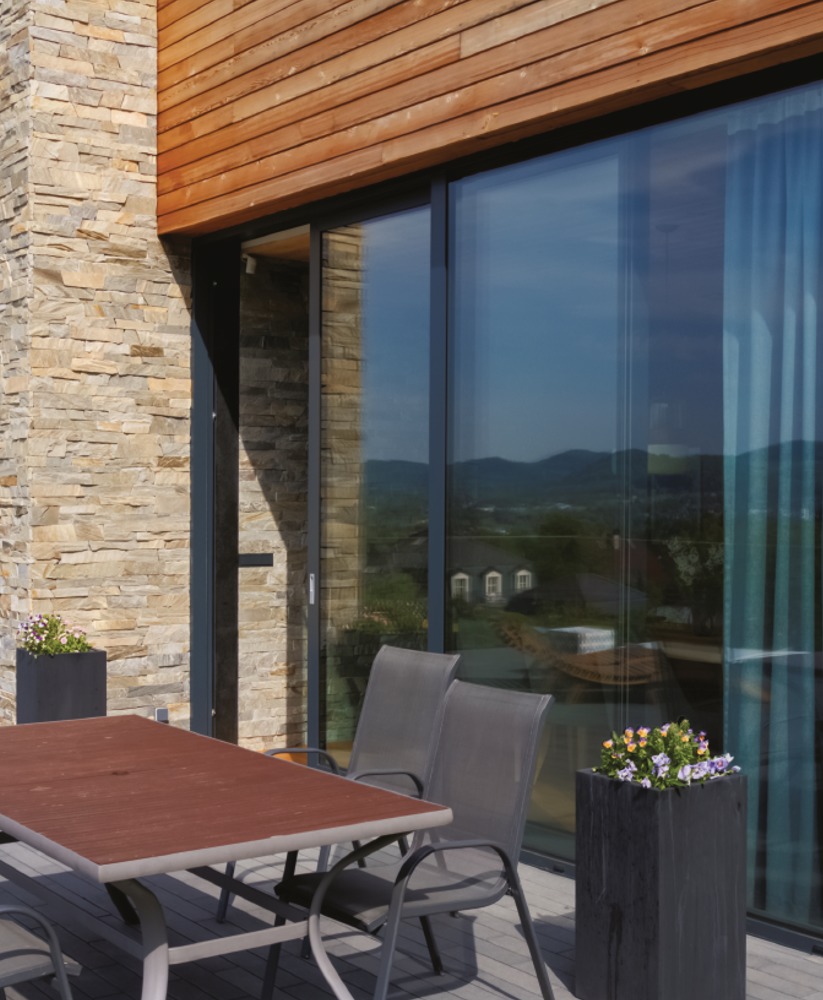 BALCONIES / TERRACES
Reliable protection for the weakest points of your home.
According to police statistics, a burglar's path into a home is usually through windows and large glazing, such as sliding patio doors. It is therefore worth considering the choice of wooden construction and buying windows and doors with increased resistance to burglary in easily accessible places, especially on the ground floor of the building.
Fittings are essential for securing a building – their safety depends on their quality.
Space in an apartment is very valuable and needs to be used optimally.
GEALAN SMOOVIO sliding system
– ensures comfort of use, saves space and is extremely tight at the same time.
LIFTING AND SLIDING DOORS HST
Thanks to the sliding doors based on the door system Salamander The HST requires no effort to open balcony, patio or porch doors – just one smooth movement. Statically balanced construction ensures unusually easy operation of the sash and at the same time guarantees efficient operation while maintaining all thermal and acoustic insulation properties.
– Frame installation depth: 172 mm
-installation depth of the sash: 76mm
-from U_d= 0.77W/(m2K) (with thermally split steel)
-Dimension: 4,80×2,50m
– Glazing: up to 48 mm
– Theft protection: up to RC2
Thanks to the KBE Komfort lift-and-slide door system PremiDoor 76 Lux are rooms filled with natural light. The system can be used in the manufacture of sliding doors up to 6.5 metres wide and 2.6 metres high.
Slim profiles and large glazed door surfaces bring more daylight into our daily lives, but KBE PremiDoor 76 Lux is not only aesthetic but also an excellent insulator at 1.4W/(m2K). Lift-and-slide doors based on this system are stable and the leaves move with incredible smoothness, despite weighing several kilograms. A wide range of colours for the designer gives a wide range of colours – from standard white to different shades of laminates
-to U_d = 1.4 W/(m2K)
– Size: 6,50×2,60m
– Glazing: up to 50 mm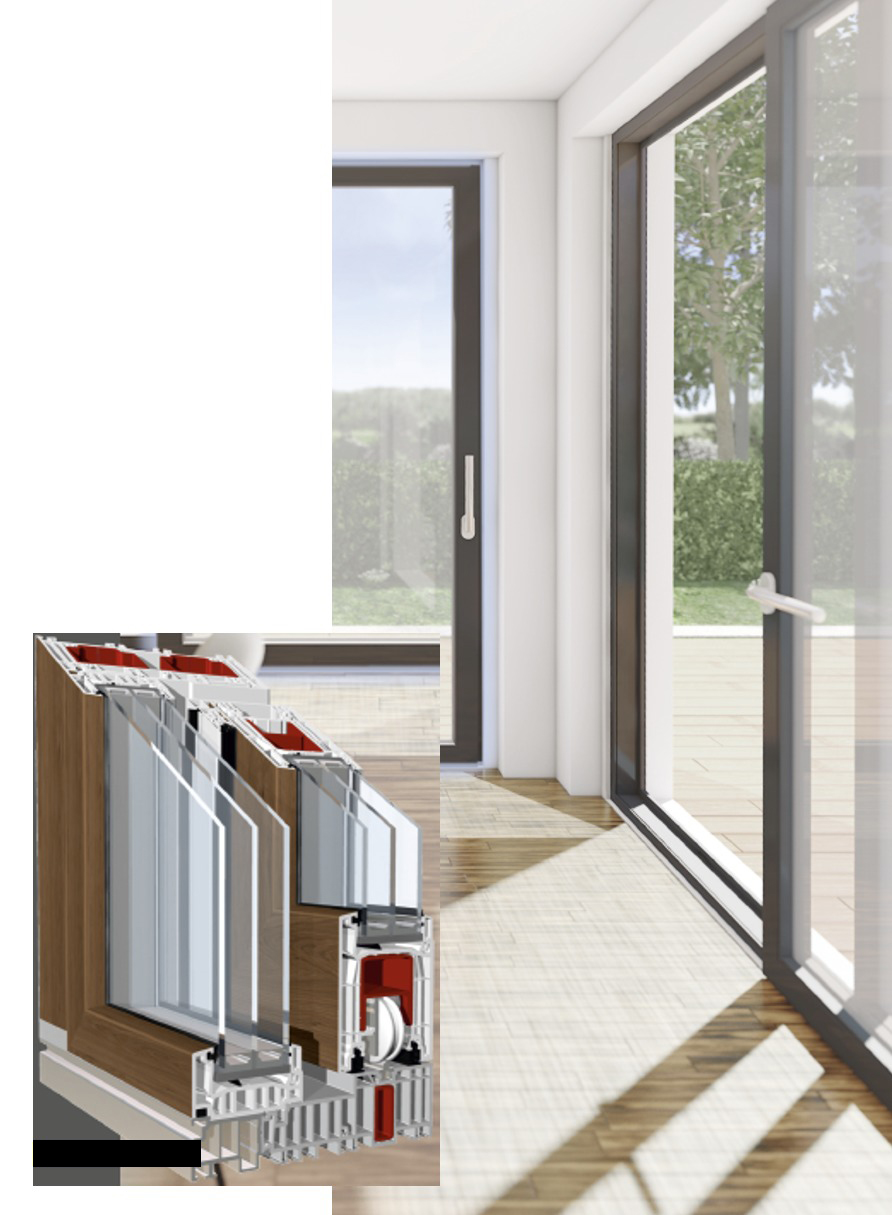 BUSINESS DOORS
with the function of parallel removal of the sash from the frame. Safe ventilation and a healthy indoor climate for health and well-being.
The tightness of modern buildings creates the need to provide a controlled supply of fresh air. Oscillating balcony fittings Winkhaus duoPort PAS is an innovation that makes the traditional sliding door, create a new way of ventilation – placing the leaf parallel to the frame. Drilling a room has never been so safe, natural, even, efficient and energy-saving at the same time. Even in the absence of household members, the 6 mm gap between the sash and the frame around the entire perimeter of the window ensures natural air exchange and at the same time protects against excessive cooling of the room and loss of energy. Convenient, intuitive operation ensures high comfort of use – sliding wings weighing up to 160 kg remain free thanks to built-in dampers and energy storage.Combination soft mushroom pin from the system activPilot and special frame hooks ensures increased safety even in underplanting version of the fitting. In the parallel sash position, the fitting has the same burglar resistance class as in the closed position (even up to RC2)
APPLICATIONS:
-for sliding structures made of PVC and wood
-acceptable wing weight: 160 kg
– wing width in falci (SWO): 750 to 1650 mm
-wing height in falci (WWO): 650 to 2300 mm
– Wing upright width: 125 mm
– mounting strip: 35 mm
– can be used in renovated buildings
– in accordance with the assumptions of modern, energy-efficient architecture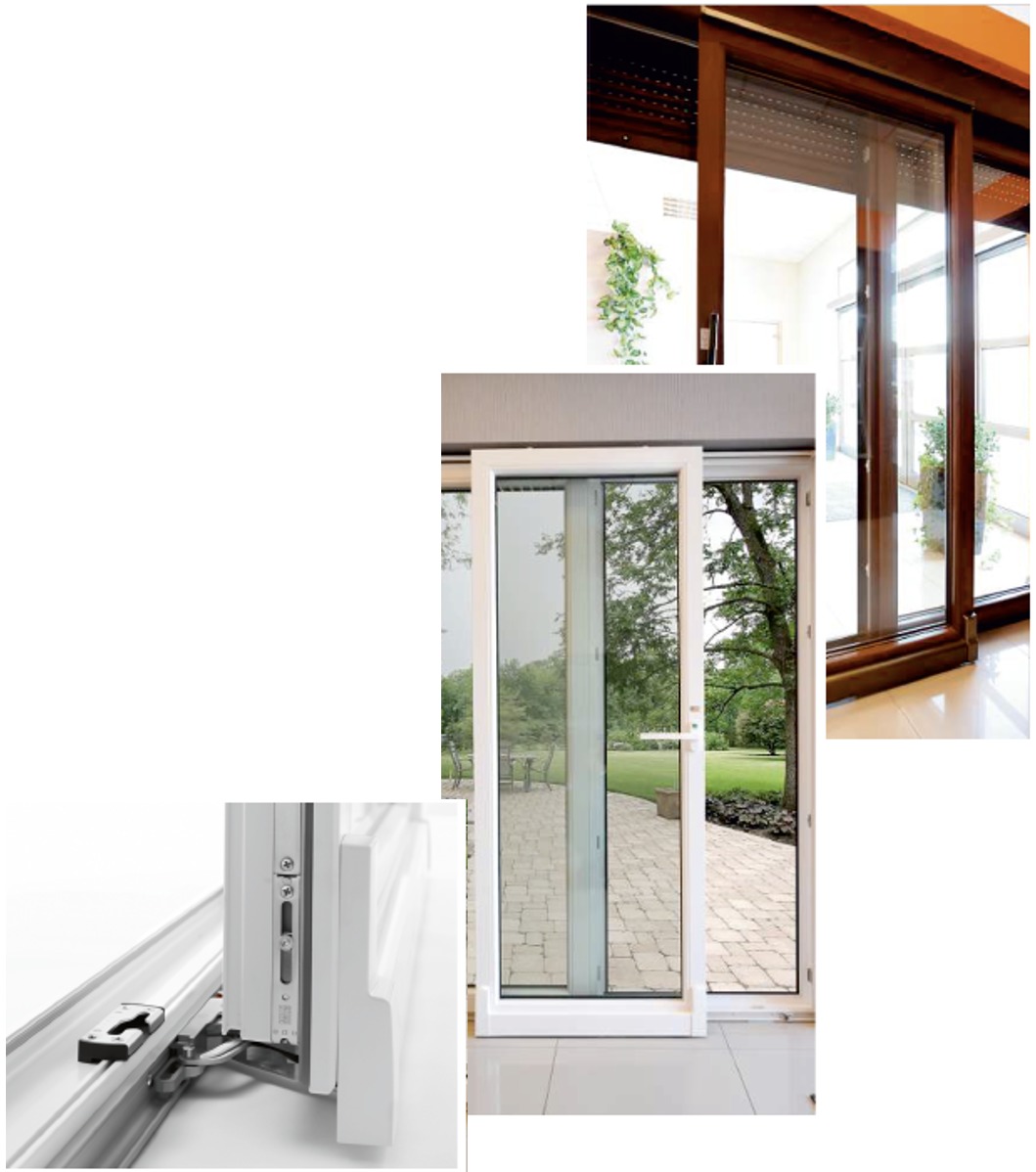 HINGED AND SLIDING DOORS
– moderal architecture focuses on large-format windows that meet high requirements for security, comfort, aesthetics and energy efficiency. Comfortable tilt and slide system duoPort EN Winkhaus was designed with large-format windows in mind, which are increasingly common in modern architecture. The products manufactured on the basis of this system are characterized by aesthetics, energy efficiency, but also by comfort, which ensures quiet and smooth operation, which is the result of the work of very stable chassis with 28 mm diameter pulleys and full freedom in the living space without restriction. The space intended for the opening of the wing. Tilt and slide doors manufactured by the system duoPort SK are based on the RC1 or RC2 class with increased burglar resistance due to the use of anti-burglar latches on the window frame. The basic version of the fitting is also equipped with fixed mushroom-shaped locking pins. Fittings duoPort is available in a version with manual operation without power steering (SK-S) and with a control handle (SK-Z), which facilitates folding, sliding and closing of very heavy sashes (fitting load capacity up to 200 kg)
-Minimum wing width in falci 620mm
-Maximum wing width in falci 1500mm
-minimum wing height in falci 650mm
-Maximum wing height in half-track 2450 mm
– maximum wing weight 200 kg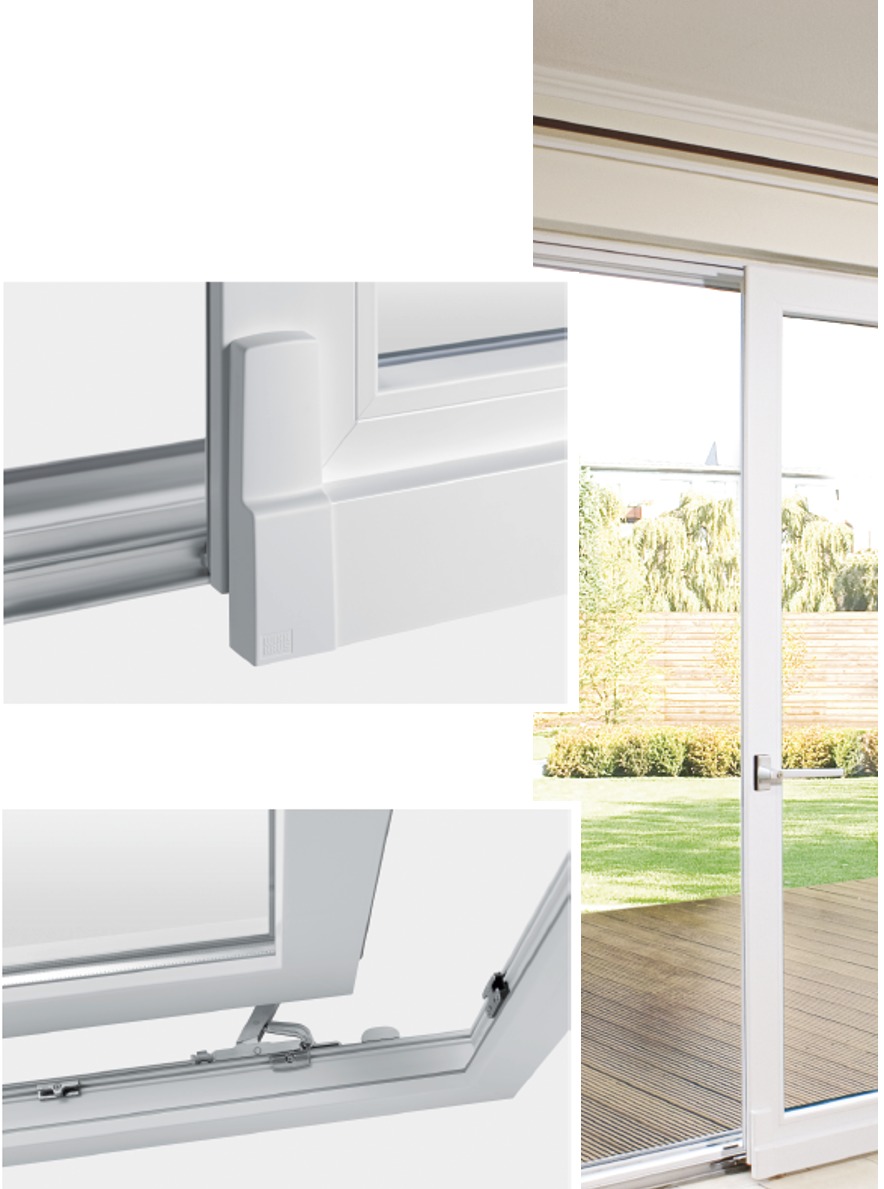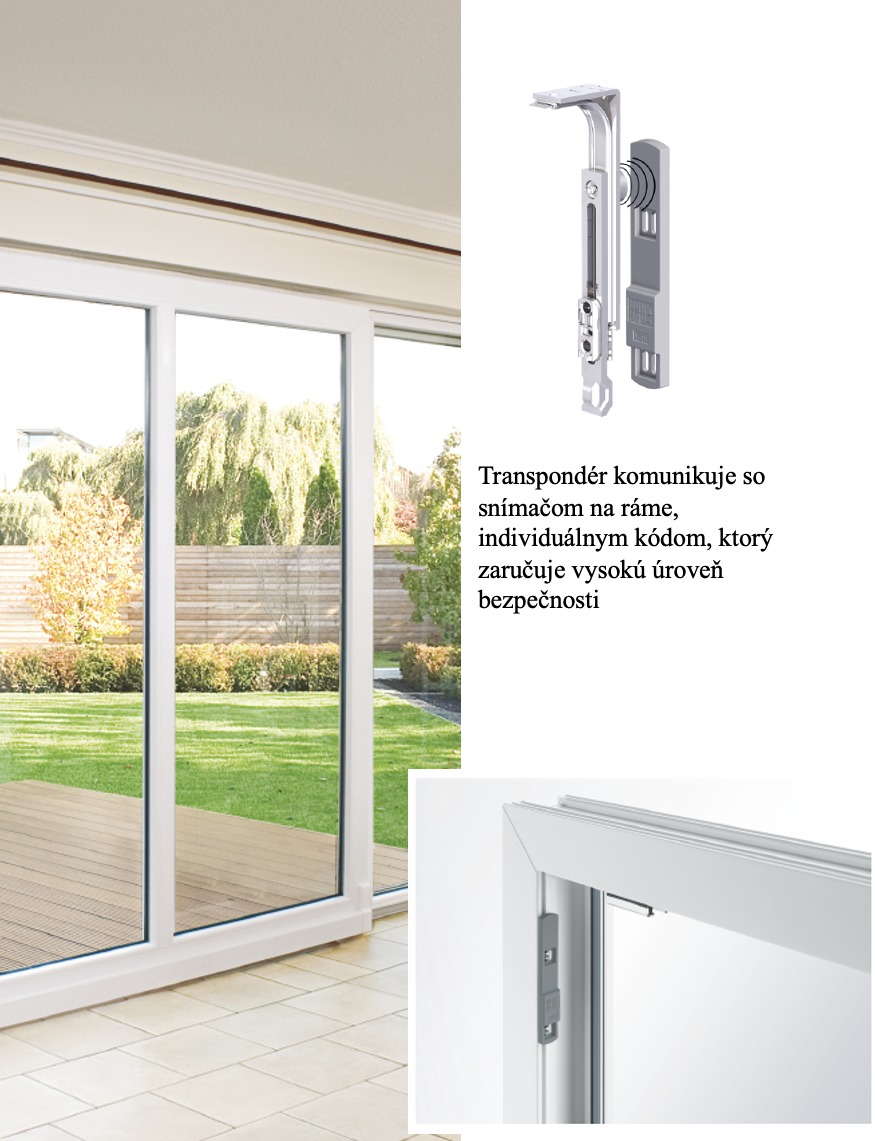 MAGNETIC SENSORS activPilot Control
-an accessory that takes care of your safety
Window closing sensors operating on the magnetic field principle. They are a solution that will work primarily in residential houses, apartments and flats exposed to burglary. Fittings ActivPilot Control are special contact latches located on the window frame, working in conjunction with the hardware on the sash. They reliably indicate which windows are open and which are locked. Not only do they monitor the position of the windows, control the air conditioning and the operation of the cooker hood, but they also work with the alarm system of the entire building to alert you to any attempt to force open a window. The sensors hidden between the sash and the frame do not spoil the aesthetics of the window and are completely invisible to thieves. When you leave the house, you no longer need to check that all the windows are closed – just look at the data from the control panel. The sensors can also transmit information about the position of the window sashes to solenoid valves on radiators or air conditioners. If we open a window, the sensors will remove us, turning off the heating in winter and the air conditioning in summer, minimising energy loss.Window closing sensors operating on radio waves from Winkhaus – This is the first time that radio wave technology has been used in window monitoring.
Sliding system – GEALAN SMOOVIO
It ensures comfort of use, space saving and at the same time is extremely tight. The unique features of the new slide are the result of a synergistic combination of elements such as a new fitting design, innovative profile geometry and a sophisticated seal shape.
SYSTEM BENEFITS:
-convenient operation
-saves space
-wind protection
–waterproof
-high thermal insulation
-optimal sound insulation
-elegant, balanced design